Aachen and Aston Le Walls
20-July-2014
20-July-2014 22:32
in General
by Admin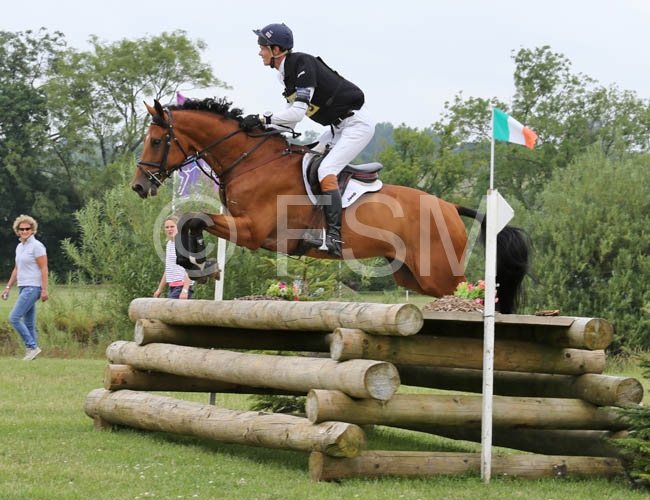 Just got back from a very good and very hot trip to Aachen, where Chilli finished 9th individually, and the Team finished 2nd.

Although I was very pleased with his dressage test he unfortunately made a couple of mistakes, and scored 43.4, finishing in 14th place. I was obviously a bit disappointed with that as I had hoped he would be in amongst the leaders after dressage, knowing how well he can go. He then show jumped really well and clear just incurring 2 time faults, which moved him up to 12th place, with the cross country still to go on the saturday morning. The course was fairly decent and had four tricky combinations, but with Chilli slightly off the pace I decided not to put my foot down completely, so I took him at a good speed for 7.2 time faults, which he coped with very well, and this was good enough to move him up another three places. It was a terrific competition and a very good run to have had under his belt before WEG. It would have done his confidence the world of good, and will have also brought his fitness on considerably.

Various logistics enabled me to get back in time to leave for Aston Le Walls very early this morning, as I drove out of the yard with the Aston horses, Jackie was driving in with Chilli.

We had a very productive day, with all horses going well.

Top Biats won again and is now upgraded to Advanced! He led the dressage comfortably on a score of 20. He then show jumped clear, and I didn't have to hurry him too much cross country to still win fairly comfortably on a score of 28.

Topaze du Plain just did the dressage, he did a very good test of 28 which put him in the lead, but it was never his plan to do any more than that.

Bay My Hero was having his first run since Kentucky and was very happy to be out, he did a nice test of 28 and then went double clear.

Luxury FH really put his mind to the job in the dressage to lead the OI on a score of 21, which was very exciting. He had a pole down show jumping and went well cross country with a few time faults.

Freddie Mac was having his first competition since Bramham, finishing fifth after scoring 23 in the dressage, which had him in joint second. He show jumped clear and flew around the cross country getting 9.3 time faults. He did well and behaved himself, as he was dying to find any excuse to explode. It was great to have him out again and he will hopefully now go to the Advanced at Gatcombe.