The Team
Jackie Potts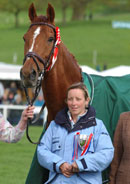 Jackie has been with William for 28 yrs and as head groom is an integral part of the team. In 2006, nominated by William, she won the Groom of the Year Award, and in 2014 won FEI Groom of the Year. She and her beloved dog Tatts (a gift from William at Tattersalls 3DE one year!) are based at Wood Lane.
William about Jackie: "Jackie and I have enjoyed 28 seasons together, there have been some amazing highs and terrible lows but through them all she has kept her feet firmly on the ground and her chin up. She is a huge support to me, always loyal and it is an absolute privilege to work with someone so dedicated and professional. Jackie is the ultimate team player, whether at home on the yard, or at a Championship where she flourishes amongst other squad grooms."
2021 Team
Belle is joined by Eva and Lexi. We will be releasing their individual profiles very shortly.
Belle Wallace
This is my second year as a part of team Fox-Pitt and I am incredibly excited for all the amazing experiences have already come my way. I have evented up to 2* but took a step back two years ago to relocate from Wales to Australia for the year. I was lucky enough to gain invaluable experience as a groom for a talented 4* rider based in NSW, where I got to see what it takes to care and groom for horses at this level. I then used the back end of the year to travel around Australia, the States and Southeast Asia before beginning the 2020 season at Fox-Pitt Eventing. I have already learned so many management skills from Jackie and riding tips from William, so I'm very excited to continue learning and making my Eventing dream a reality - by being a part of this fantastic team!
Michelle Maidment
Michelle has been part of the team since 2013, and is based in the office at Wood Lane Stables
James Lewis
James joined the team in July 2020 in the role of maintenance man. He has his hands full keeping the whole yard ticking over, maintaining the gallops, lorries, machinery and generally keeping Wood Lane Stables in tip top shape.