Wellington
27-August-2012
27-August-2012 12:42
in General
by Admin
The new event at Wellington was certainly a huge success and was an excellent outing for four of my horses.
Freddie Mac unbelievably won his third Intermediate in a row, but this time the scores were considerably tighter. He lay in joint first after the dressage doing a very good test to score 30 and jumped another superb clear show jumping. He went easily round the cross country and I didn't have to push him to make the time. We finished on an equal score to Brook Staples but I was very luckily two seconds closer to the optimum time across country which bought us out on top. He is now three points off Advanced which was definitely not in the plan!
Before Time had another good run in the Intermediate jumping an excellent double clear. He was a little on edge in the dressage for some reason so it was not worth letting him go on across country but despite that he only picked up 4.8 time faults, finishing just outside the top ten.
It was very exciting to have Navigator out for the first time in over a year. He was having a run in the Intermediate, HC. He did a good test, scoring 27.7 to lead. He rolled a couple of poles show jumping and went well across country but I pulled him up after the water about five fences from home as it was a long course and I felt he had done enough.
Bay My Hero had a very satisfactory run in the Advanced finishing 5th. He also led the dressage on a score of 27.5. It was a very nice test although he decided to take off in both his flying changes so there is still improvement to come. He jumped a very good clear show jumping and added 10.4 time faults with a reasonably quiet round across country but giving me a super ride.
The courses rode well and met with much praise, though some of the distances came up a little short. The orgainsers had done a superb job to even run the event considering a month ago they were unable to get into the park due to the recent wet weather. It will hopefully be a very exciting venue for the future and a massive asset to the BE calendar.
Tomorrow attention turns to Burghley with Parklane Hawk and Seacookie both on good form.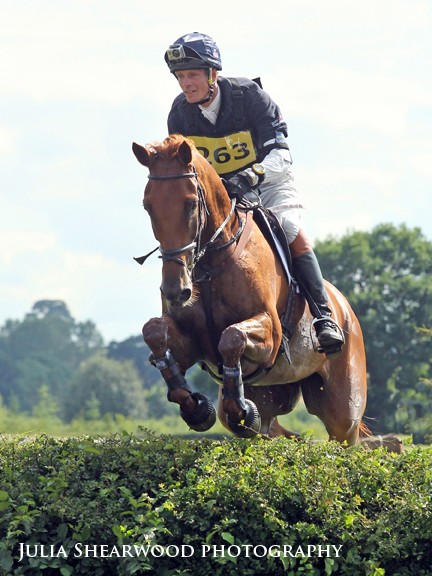 Freddie Mac continued his winning streak today at Wellington, his fourth win on the trot.
(Pictured above winning the Intermediate at Aston Le Walls in July)
Photo copyright of Julia Shearwood Photography