Purston Manor
09-August-2012
09-August-2012 12:42
in General
by Admin
It was a good weekend at Purston Manor.
On Saturday Henton for Fun finished 2nd in his section of the BE100. He did a lovely dressage to score 29.0. He followed this up jumping an excellent double clear, adding just 0.8 time penalties to his dressage score. This was a very pleasing run for him as he had not been out since Stonar at the end of June. He is improving all the time and feels ready for the step up to Novice. Sadly, with the cancellation of West Wilts tomorrow (Tuesday) and the Autumn three-days approaching fast this will now be a little later than anticipated.
On Sunday Freddie Mac and Before Time were also having their first run in over a month. Freddie Mac is continuing to improve from his CCI* run at Tattersalls and led from the start to win his section of the Open Novice. He produced some excellent work in the dressage to score 25 and lead the section. He went on to jump a lovely double clear adding 9.2 time penalties to his dressage score to win by 3 marks. He feels ready for his first Intermediate run at Aston Le Walls on Wednesday.
Before Time was very excited to be out again. He produced some good work in the dressage to score 28 and although jumped well on the whole show jumping, he got a little carried away and rolled three poles. I didn't rush him cross country as his poles down had put him out of contention, but he jumped a great clear across country, really settling into the job. He too will head to the Intermediate at Aston Le Walls on Wednesday.
The team at Purston did a great job in difficult conditions and the ground held up remarkably well.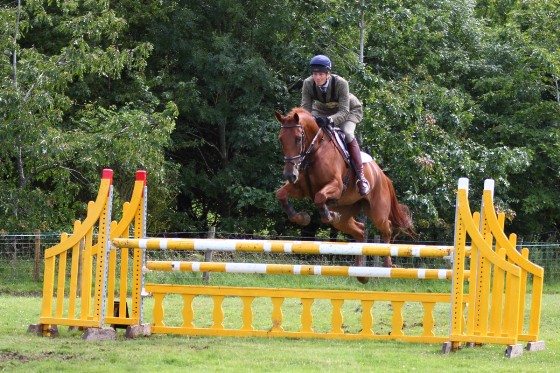 Freddie Mac on his way to an Open Novice win at Purston.
Photo copyright of Ian Barr.