Blenheim
15-September-2013
15-September-2013 19:48
in General
by Admin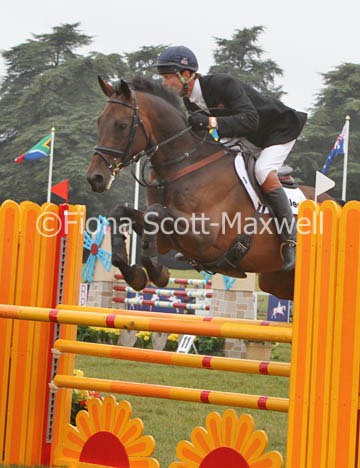 Blenheim certainly turned out to be an event of mixed fortune.
The only highlight was Fernhill Pimms saving the day with a superb win in the CIC 3* 8/9YO championship.
Having been second after dressage he moved into the lead, then Chris Burton rolled a pole show jumping. Pimms jumped really well over a big track and took the exciting atmosphere in his stride.
Today he gave me an excellent ride across country, finishing just one second over the optimum time to win by 3 marks. It was a decent track and certainly the biggest he had ever seen.
I couldn't be happier with how he dealt with all the questions, never giving me an anxious moment. I knew I had a few times penalties in hand once Chris Burton had done the time but we didn't need to use them. It was a very competitive class with several smart horses so it is a real thrill to have won.
So now onto the disaster of Saturday....
Freddie Mac got the day off to a superb start with a foot perfect clear in the show jumping. However I was then eliminated for having elastic velcro on his hind boot attachment. You are only allowed to use certain boots in 'age classes' but I had not realised that this excluded any use of elastic.
The boots I had on him are normal fetlock boots with no intention or ability to enhance the horses' jump. The ground jury were sadly very stubborn and were not prepared to be lenient despite the fact that many people jumped in dubious boots. Once Sam Griffiths and I had been eliminated everyone else had their boots checked before their show jumping round which further demonstrated the lack of consistency. As Mark Todd pointed out for us today, 8&9YO horses can hardly be described as young horses and should not be included in this ridiculous boot/age rule. It was a real shame because although Freddie Mac did not get to benefit from experiencing the Blenheim cross country he will also have to wait until next year to get his CCI qualification. It was also very sad for his owners who had to suffer such epic disappointment.
Freddie Mac will now have a holiday so let's hope he has bit more luck next season on his campaign for Bramham.
Before Time had a very unlucky fall three fences from the end when going really well. He was up on the time and full of running, but got in a little tight for the second of two houses which he hit, and he came down. Luckily we were both ok, and he will be fit to fight another day.
Running Order was also very disappointing. He wasn't on his best form and after being a bit sticky he refused the jump into the lake, so I retired. I will have to do some head scratching concerning him as he has been going very well and this caught me totally by surprise.
It was another interesting competition with the cross country being very influential. Eric Winter did a great job regarding the course and it certainly caused far more trouble than was expected.
The time was also very influential in both classes which always makes for a very interesting competition.
We were really lucky with the weather, very little rain came today and the Blenheim team must be congratulated on a fantastic competition.