Burghley cross country
07-September-2013
07-September-2013 19:59
in General
by Admin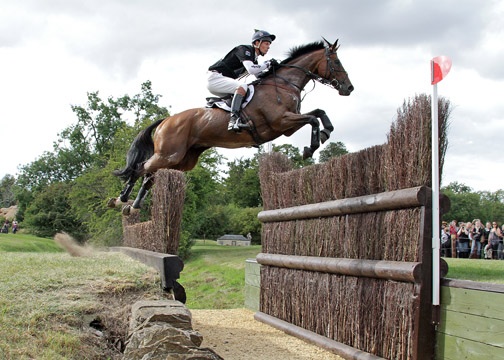 A mixed day today at Burghley.
My first ride Neuf des Coeurs unluckily lost a shoe quite early on on the course, and I decided two thirds of the way around to pull him up. It was a huge pity because he was feeling on great form but I could tell something was amiss, and I could telling it wasn't worth carrying on even though he was going clear.
It was very disappointing for the Halls and the Skinners, who are here hosting the EHOA tent. However he seems fine this evening and might well aim for Pau at the end of the season.
Parklane Hawk gave me a superb ride cross country finishing with .8 time faults. He couldn't have given me a better ride, and was perfect from start to finish. However the pity was that the time faults have cost him two places and he is now still in fourth. It is very tight at the top although Jock Paget has got a comfortable lead on Clifton Promise, but after that it will all be down to show jumping tomorrow.
It was a tough day with only three horses finishing inside the time, but Mark Phillips has produced a great competition with 40 clear jumping rounds.
Fingers crossed Parker is feeling good tomorrow, and that we do a good job with the show jumping.
(Thanks to Pam Scott for Julia Shearwood Photography for the attached photo)