Portman
01-April-2014
01-April-2014 19:13
in General
by Admin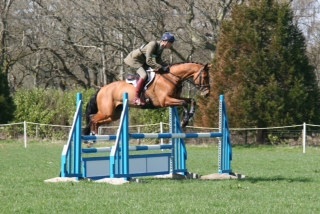 A very pleasing and successful day at Portman, but perhaps a little frustrating, "hitting the cross bar" more than once, with all four horses being placed second or third.

The going was perfect and I thought it was a good day to let them all go up a gear.

The Soapdodger had his best outing of the season so far finishing third in the novice. His dressage is improving all the time, and he thoroughly deserved his score of 29. He had one fence down show jumping, he jumped a good round and I let him run on a bit more cross country to just incur 2 time faults.

Reinstated did another pleasing test of 27, which had him in second. He had the last fence down show jumping, but I was very happy with him, and he was excellent cross country, taking the quicker speed in his stride and enjoying every minute of it. He finished bang on the time, ending in second place.

Topaze du Plain also finished second with a very good all round performance. He got 27 on the dressage which had him comfortably in the lead. I was really pleased with that as he is now showing his true potential. He had a fence down but his round was good, and he gave me a very good ride cross country, just incurring 1.6 time faults.

Top Biats was in the Open Novice just to have an easy run after Gatcombe Intermediate. He jumped a lovely clear in the show jumping at last, and felt great cross country, making it all easy which is what I had hoped. He was my final result of the day - and he also finished second!

We had a very enjoyable Fox-Pitt Eventing Club course walk at the end of the day. It was fun to be able to take a look at the course without the pressure of any start times, and I hope those that attended felt it was worthwhile.

It was a beautiful day and it was great fun to have owners and family there. The Portman Hunt did a brilliant job, and deserved a successful day - just as it turned out to be.