Burghley
31-August-2012
31-August-2012 12:41
in General
by Admin
I was very happy with Parklane Hawk's test today and he has gone into equal 4th on a score of 41.0 in what is a very tight leaderboard.
He did a lovely test overall and considering he had been a little bit excited all week, knowing exactly where he was, I was delighted with how hard he tried. It was just a shame a couple of his changes and his walk got a little tight.
Seacookie goes into tomorrows cross country phase in 17th place and with just 12 marks separating the top twenty there is a lot to play for.
It has been a lovely day here at Burghley and the ground is drying up fast. The weather has improved today and the forecast for the weekend is good.
I have had a busy day with sponsors Rolex, HSBC & Musto and have now got to fit in my final course walk.
Seacookie will go cross country tomorrow (Saturday) at 11.52am and Parklane Hawk at 4.20pm.
For a full list of cross country start times please click here
To see the full results after dressage please click here.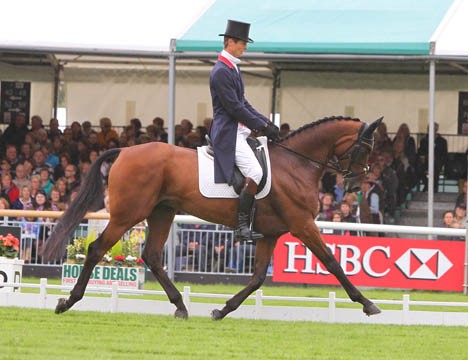 William & Seacookie during their dressage yesterday (17th place)
Photo copyright of Fiona Scott-Maxwell